On Saturday, May 21st, Waterboro Elementary School hosted their Family Dance! Many families came to dance, play, sing, and socialize. It was a fabulous time for all who came; thanks goes out to our PTO for sponsoring this fun night!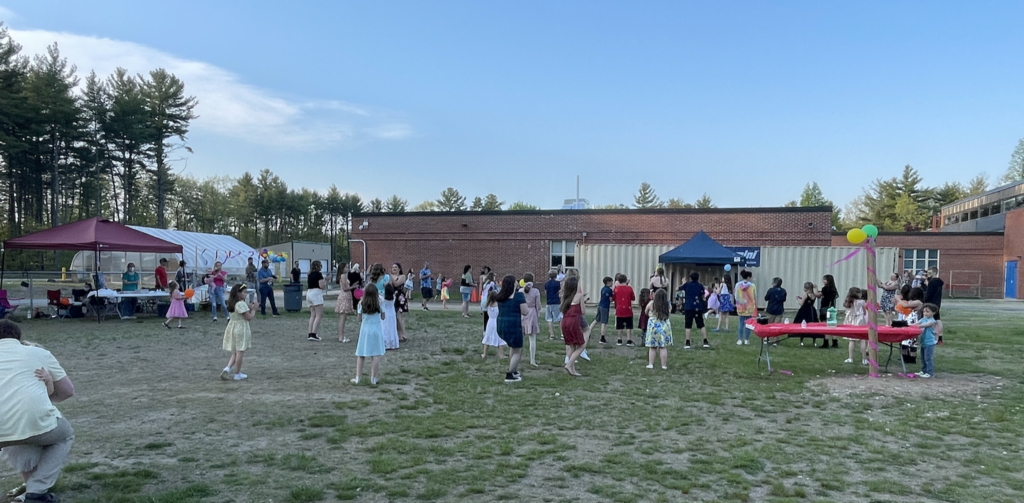 Lyman and Alfred Elementary would like to thank Jackie Chaplin, Aurelie Swasey, Carlena Smith, Megan Wakefield, Laurie Bruce, Missy McCarthy, Mrs. Leach , and a few former and current students for the work they did this weekend to fundraise for our weekend food backpack program. They were able to fill two cars with food donations and raise $793.50 for the backpack program! This is absolutely amazing and will help feed students into the new school year!!!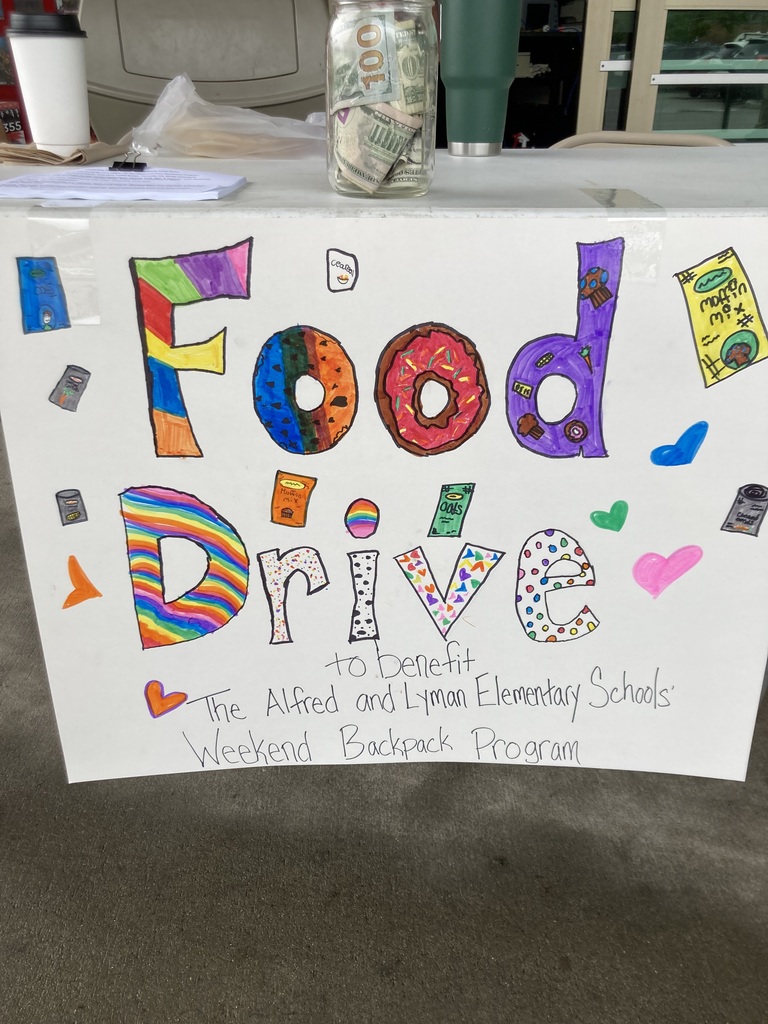 A HUGE thank you to all who volunteered or donated items at the Alfred/Lyman food drive on Saturday at Market Basket! We raised two car loads of food & $793.50 in gift cards & cash donations! A special thanks to Jackie & Aurelie for transporting the food & to Ellie for coordinating & running the event!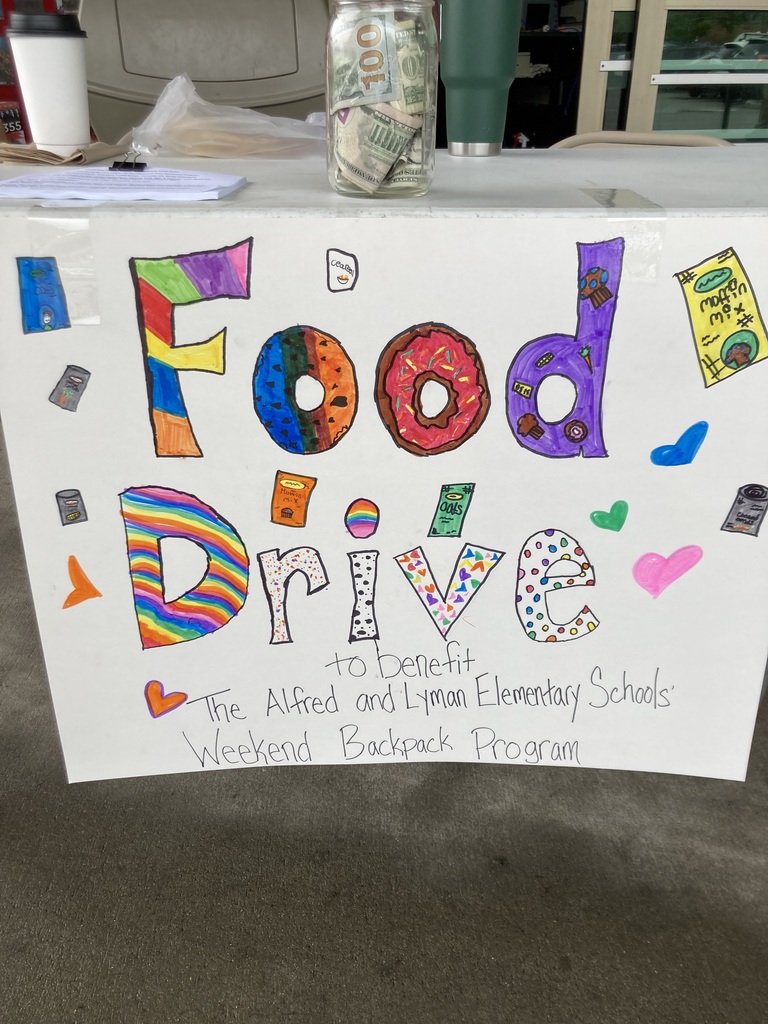 Alfred Elementary Fifth graders Annabelle Lewis, Gracie Grant, Gregory Cass, & Eliott Daney participated in a field trip to Massabesic Middle School to meet the principal, social workers, school counselor, and more! They also joined a student-led tour of MMS to familiarize themselves for next year.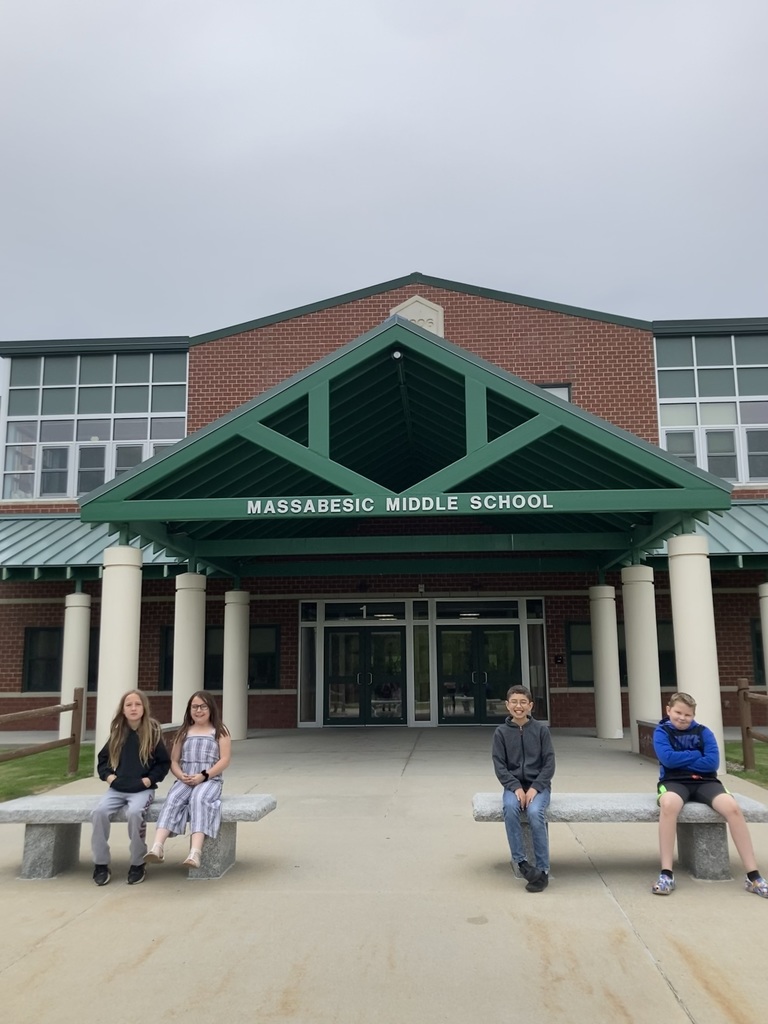 Lyman Elementary :The local forest ranger came to visit our 2nd grade classes today. He talked to the students about different trees we have in Maine, how trees grow, how long they live, and ways to keep them healthy. We took a nature walk and found a pine tree that he used a device to make a hole in the tree to figure out how old the tree is. He also talked to them about different types of trees and how we classify them.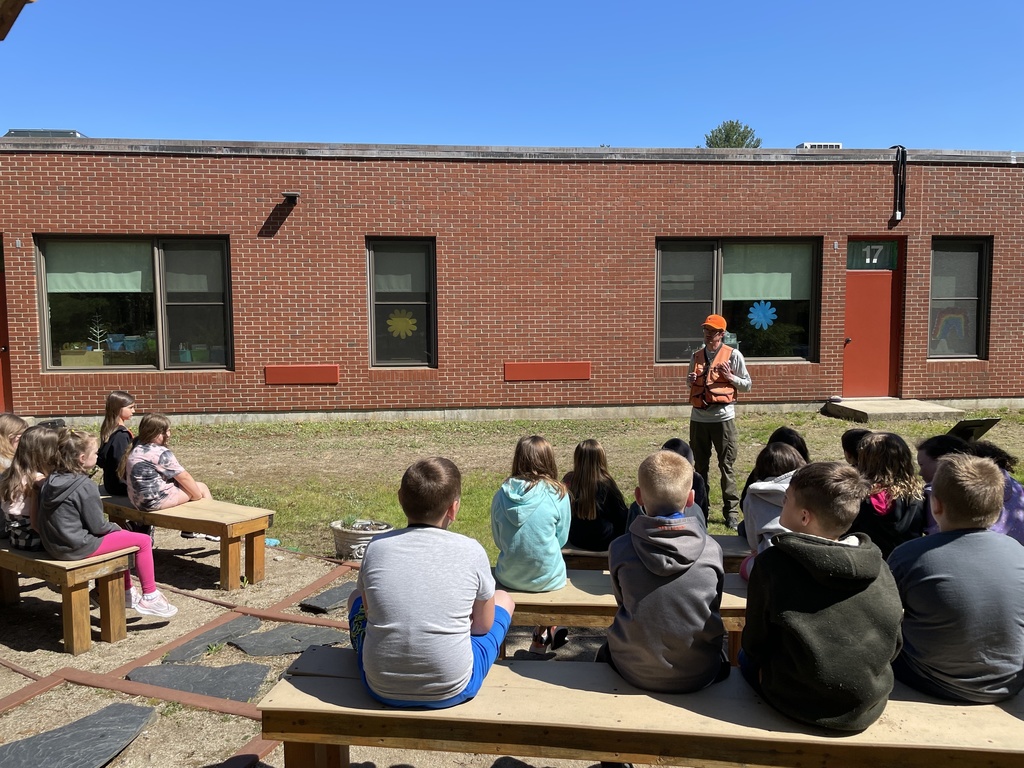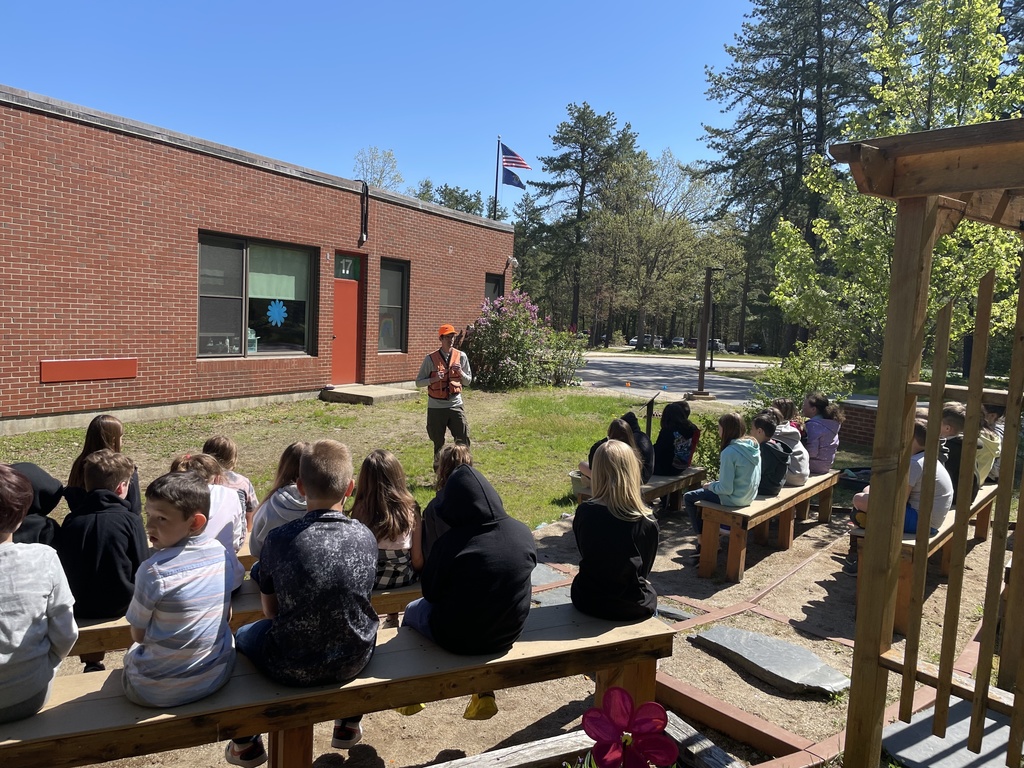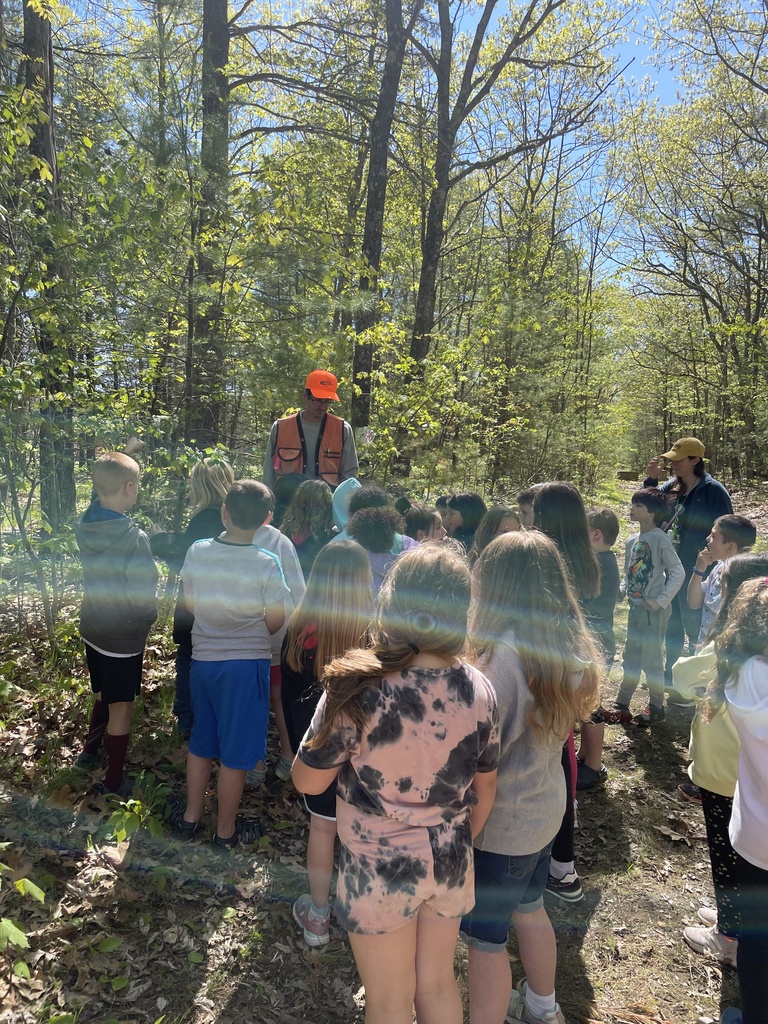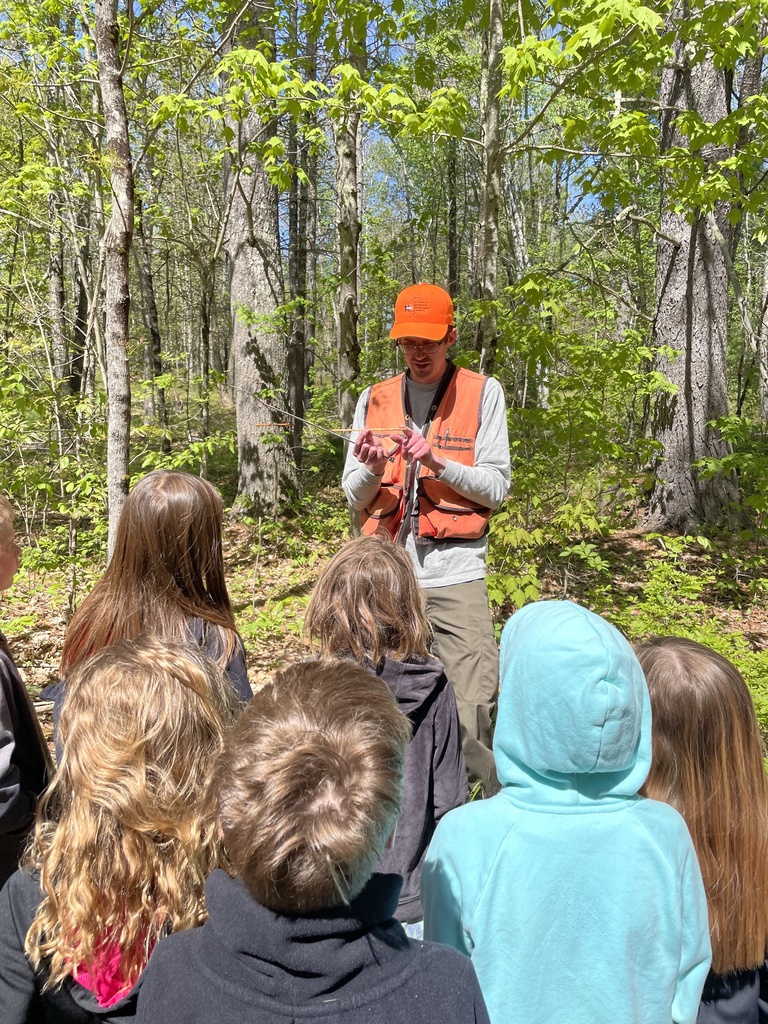 May 12th was Family Night at Shapleigh Memorial School. The theme was Camp Read-a-Lot, and the night included camping math and reading activities, the Scholastic Book Fair, making smores, fishing for rhymes, literacy baskets with games, posing for the camp photo booth, and designing and measuring your own fish! Students in Mrs. Harmon's high school advisory donated over 500 gently used books to SMS under the book drive titled, "Our Shared Shelf." Students were encouraged to choose a book to bring home. Jackson Legare said what he liked best about the night was "books with pictures" and the best activity of the night was…"smores"! Aubrey Perron said she loves to read the Dog Man series. While drawing and coloring a picture of a fish Zander Pinette said he "loves to fish and fishes every night with his dad". Gabby Richards and Scarlette Frenette tried their hand at fishing for rhymes; Fia Benvie said the best part of the night was "being with my friends"; and Jace White liked "making a puppet" best of all. Korbyn Thibeault, and Aria Hathaway attended with their family.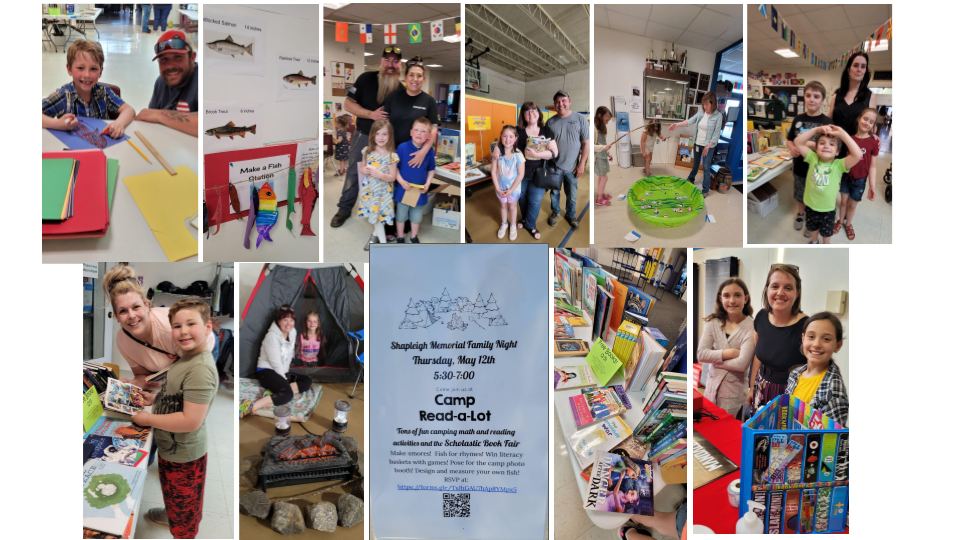 The last stop for Kiwi the Blender Bike Tour de 57! ended at Massabesic High School. Many staff stopped by to whip up a delicious and healthy smoothie. Until next year...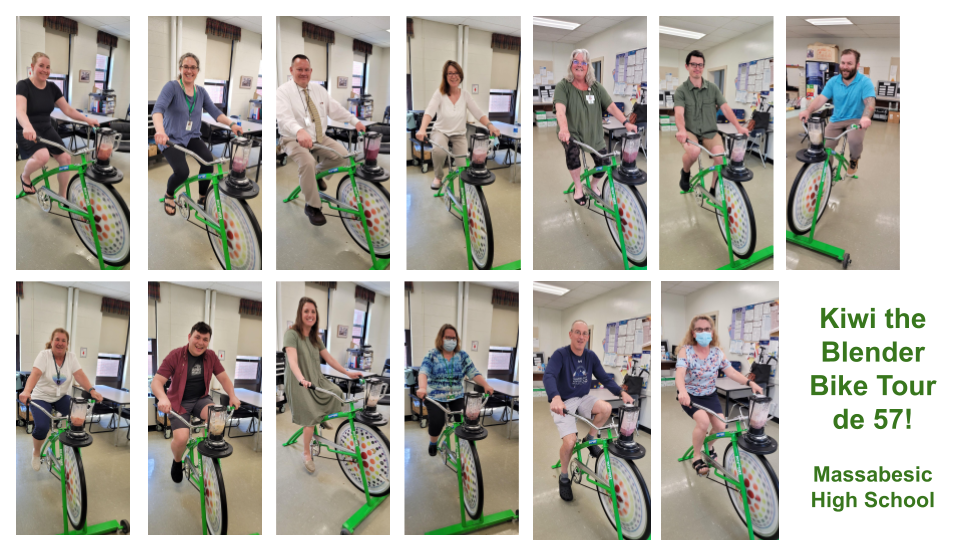 Menu Change for Lyman Elementary Only! Tuesday 5/17/22 Main Entrée Turkey & Cheese Sandwich w/Pickles, Mayo & Mustard Cucumbers w/Ranch Dressing 100% Fruit & Veggie Juice Fresh Banana, Cold Milk Choice Alternate Entrée: Egg Salad Sandwich w/Pickles Wednesday 5/18/22 Main Entrée Popcorn Chicken w/Choice of Dipping Sauce Oven Baked French Fries Caesar Side Salad w/Tomato Chilled Diced Fruit, Cold Milk Choice Alternate Entrée: Grilled Cheese w/String Cheese Stick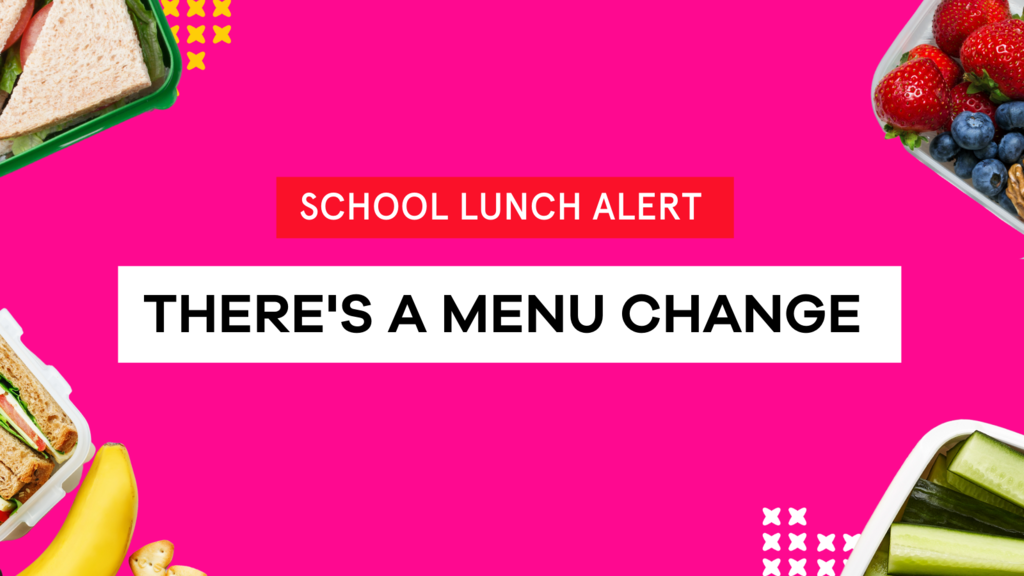 The Kindergarten classes at Alfred Elementary School went on a field trip to Pumpkin Valley Farm for Baby Animal Day! They had a blast petting the baby bunnies and goats. The 'jumping pillow' was a huge hit, as well as the corn pit and hay ride. It was a day to remember! Thank you to our PTSA for sponsoring such an amazing trip!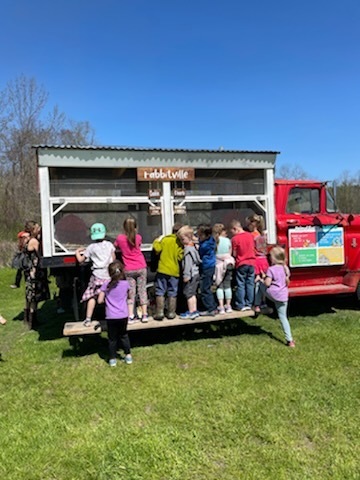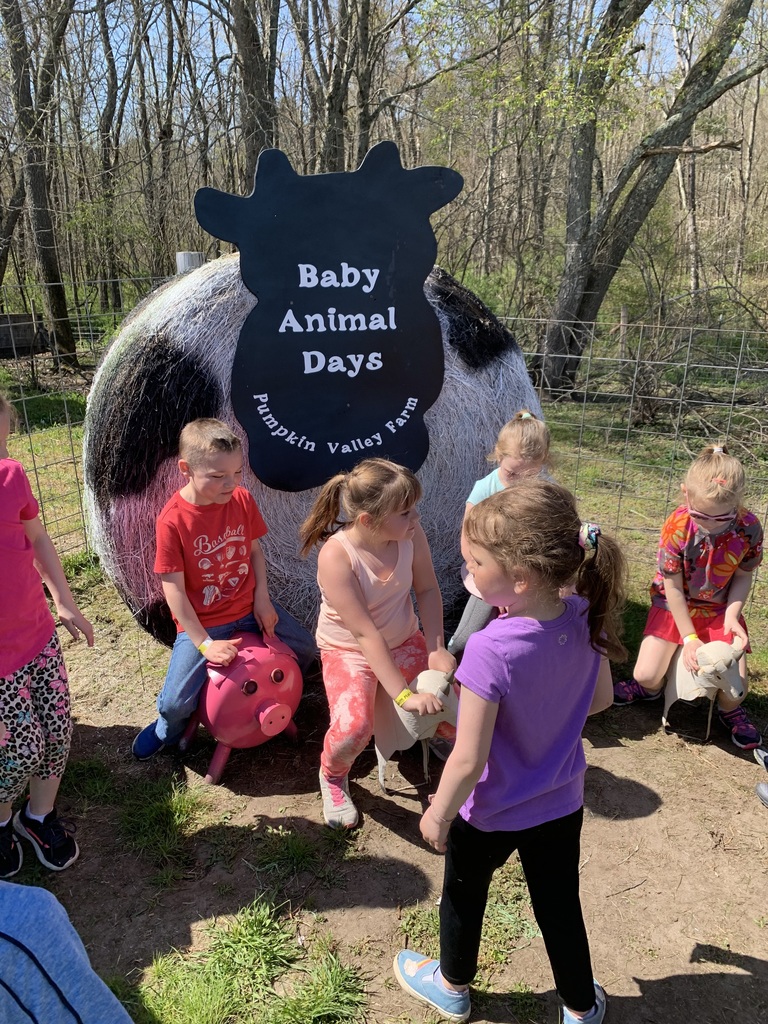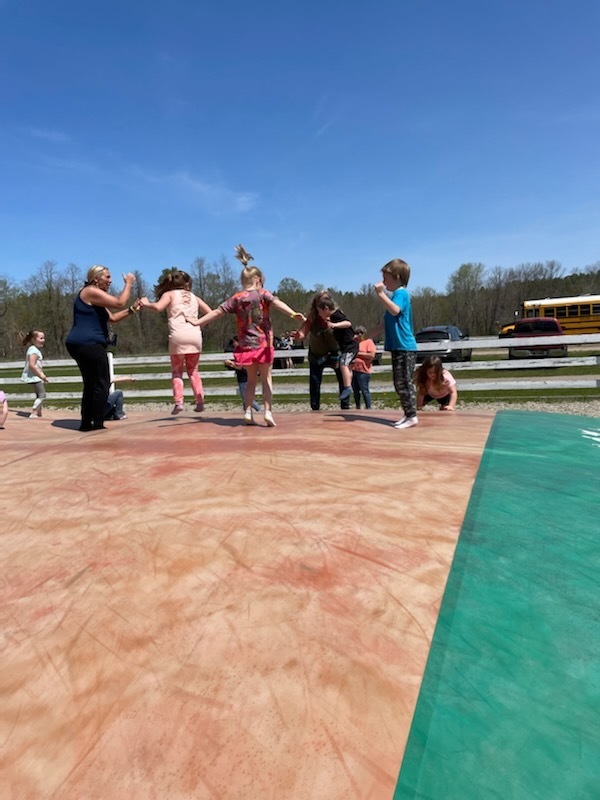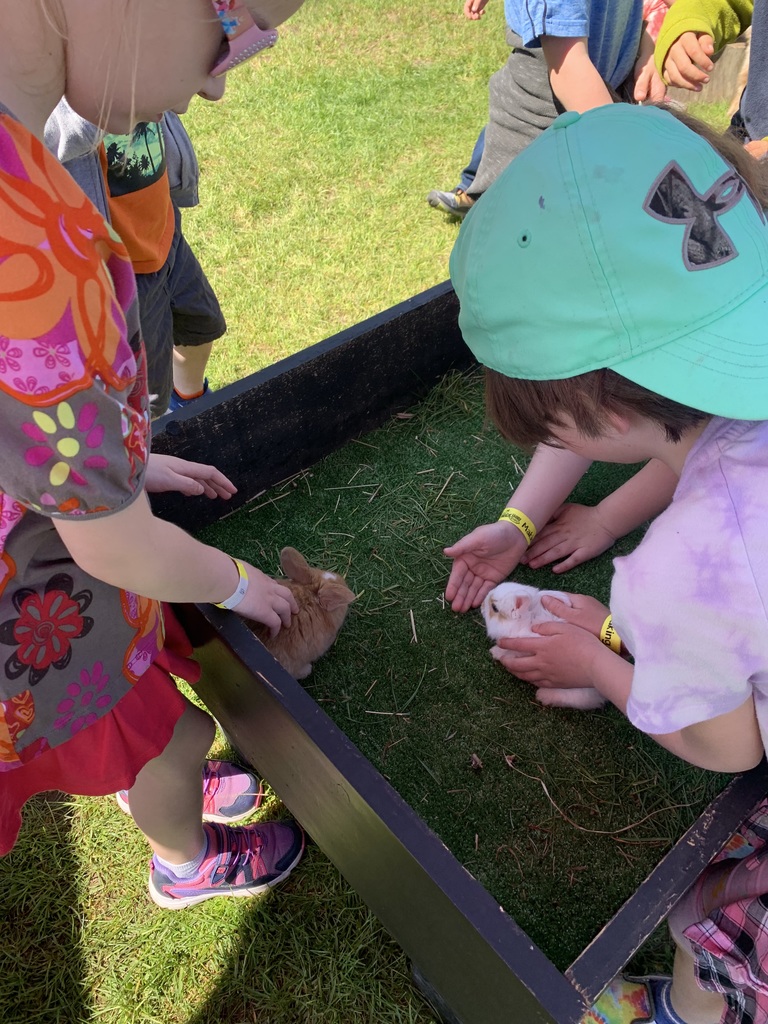 Congratulations to Aubriella Pelletier, grade 5, from Line School for her award of Judge's Favorite Maine Map (honorable mention) in the Osher Map Company's annual contest. The map was entitled "Wonders of Maine" and featured several Maine landmarks including: the Wedding Cake House, the Paul Bunyan Statue, Fort Popham, the Blaine House, the Fort Kent Blockhouse, Fort Knox, the Margaretta, the Rockland Lighthouse, the Portland Headlight, the Maine State House, and the Longfellow House, This is the second year in a row where Aubrianna's map received special recognition. She won third place overall for her 2021 map of Maine foods. For her prize, Aubrianna may select a hardcover atlas of her choice. On May 21st, the Osher Map Company will honor Aubrianna and the other finalists at their USM library from 1:00 p.m. to 3:00 p.m.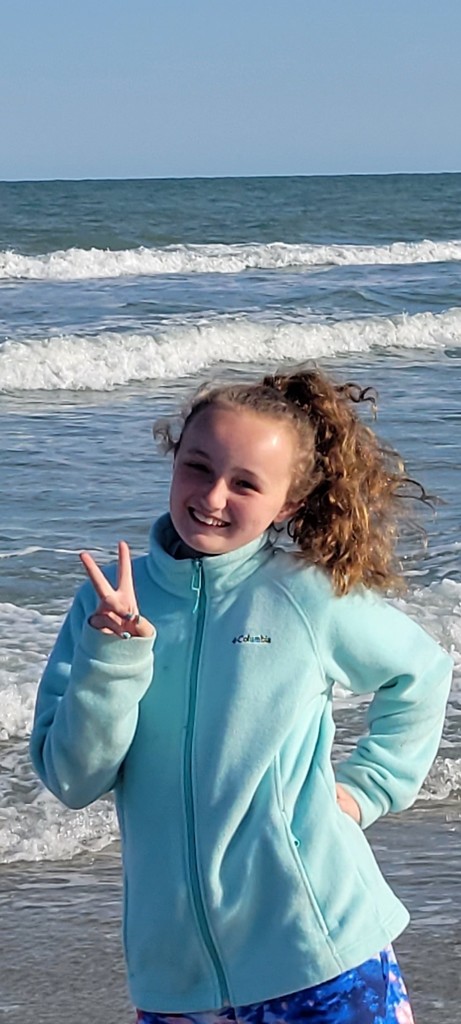 Massabesic Middle School Kiwi the Blender Bike Tour de 57! group 2.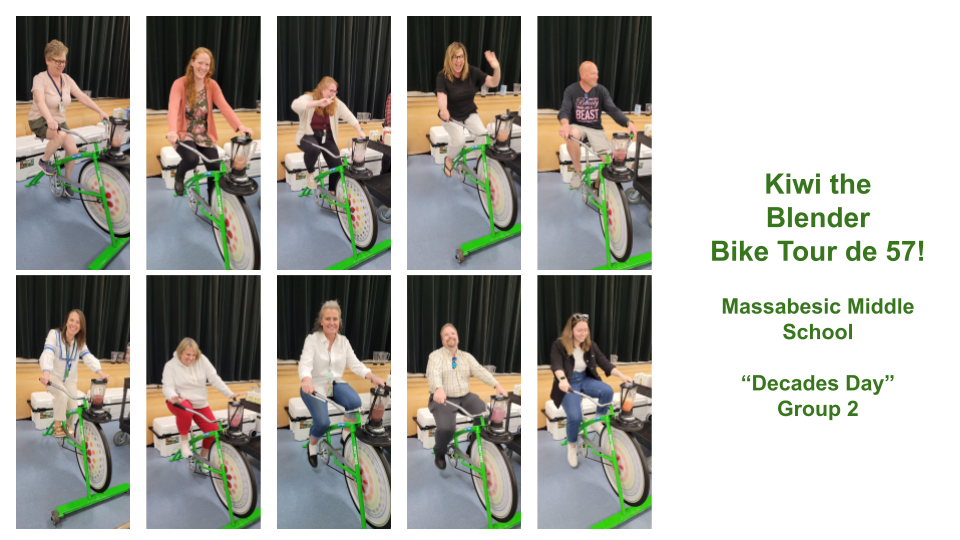 Kiwi the Blender Bike Tour de 57! made its way to Massabesic Middle School on Decades Day. Check out the cool outfits! This very energetic group had a lot of encouragement from students during lunch period, which motivated them to blend some very creative, healthy and delicious smoothies!

June menus are now available!!
www.rsu57.org
> Menu > Documents > Food Service Menus

The 2nd graders at Lyman Elementary participated in a Town Project. The students learned about economics by studying topics such as goods vs. services, exchanging money, scarcity, and making good economic choices. As a final project, they each got the opportunity to create their own business. They produced their own handmade goods and sold their items or services to their second grade peers. Some businesses included a paper airplane store, a keychain store, and a Pokemon card store!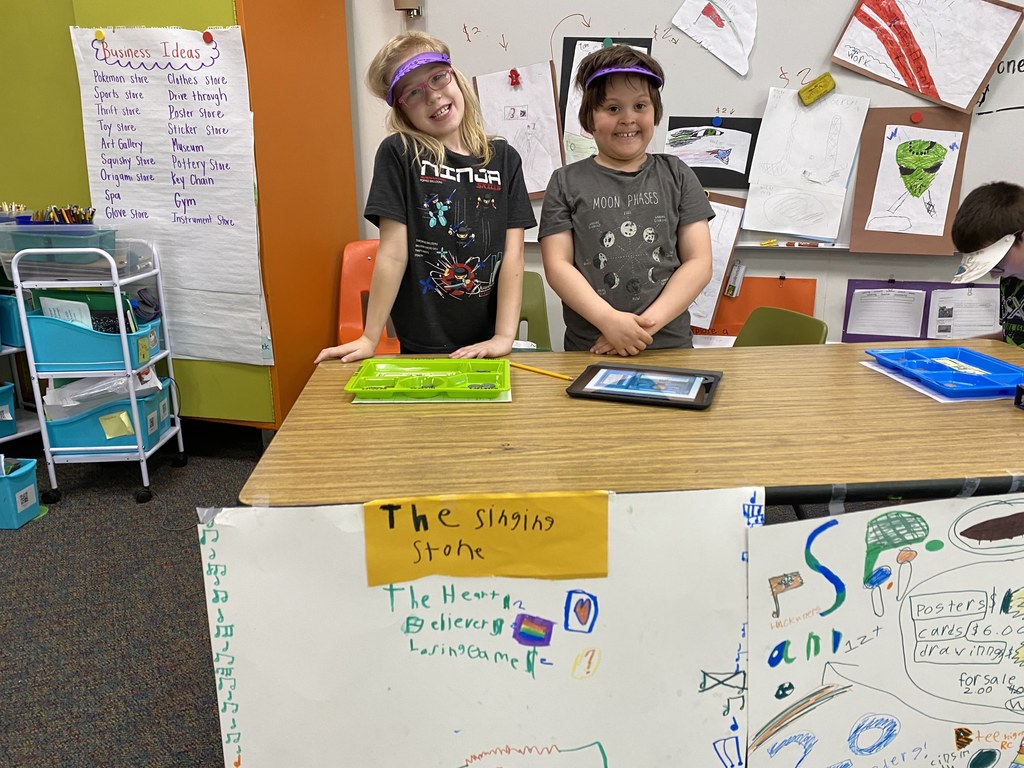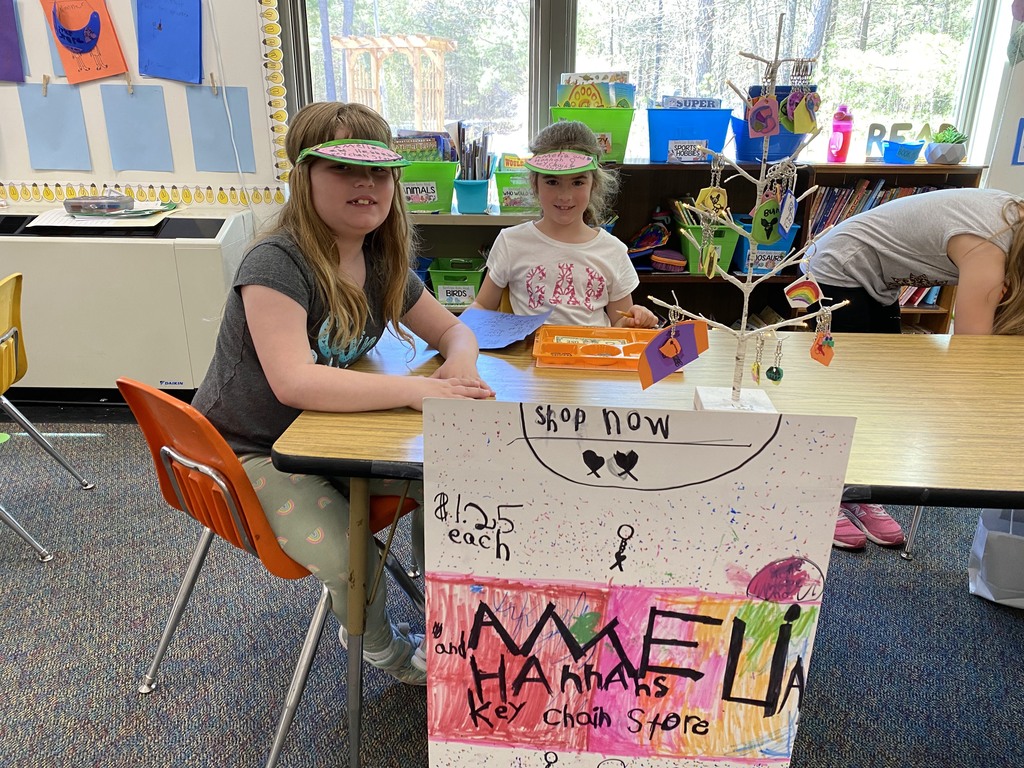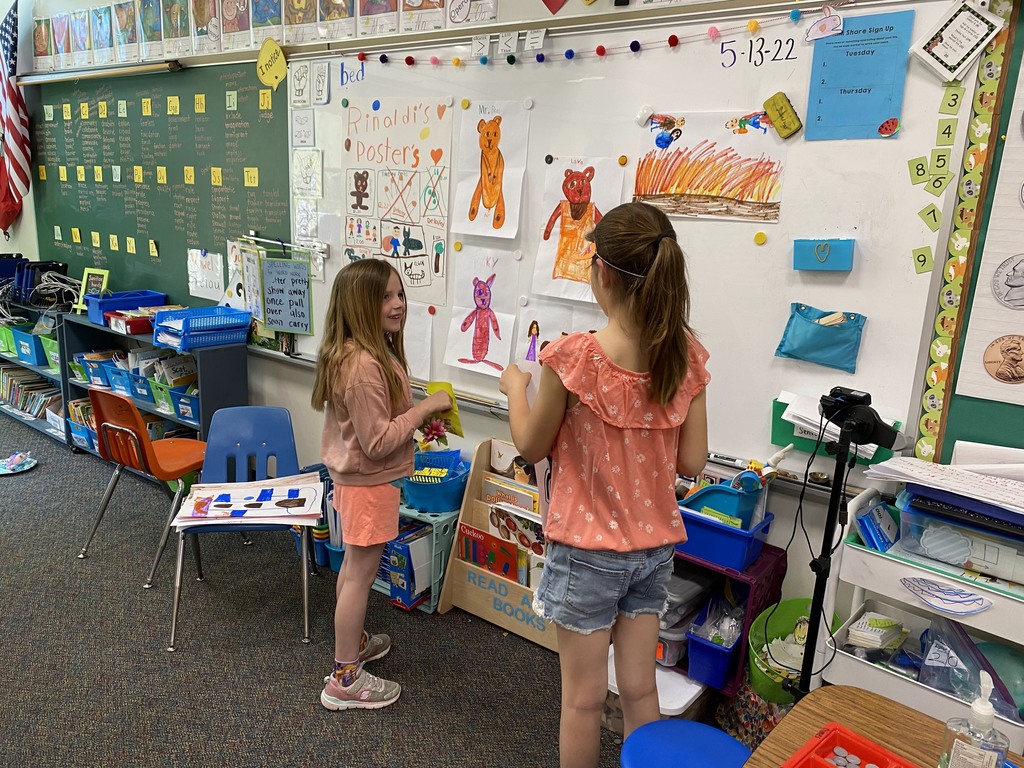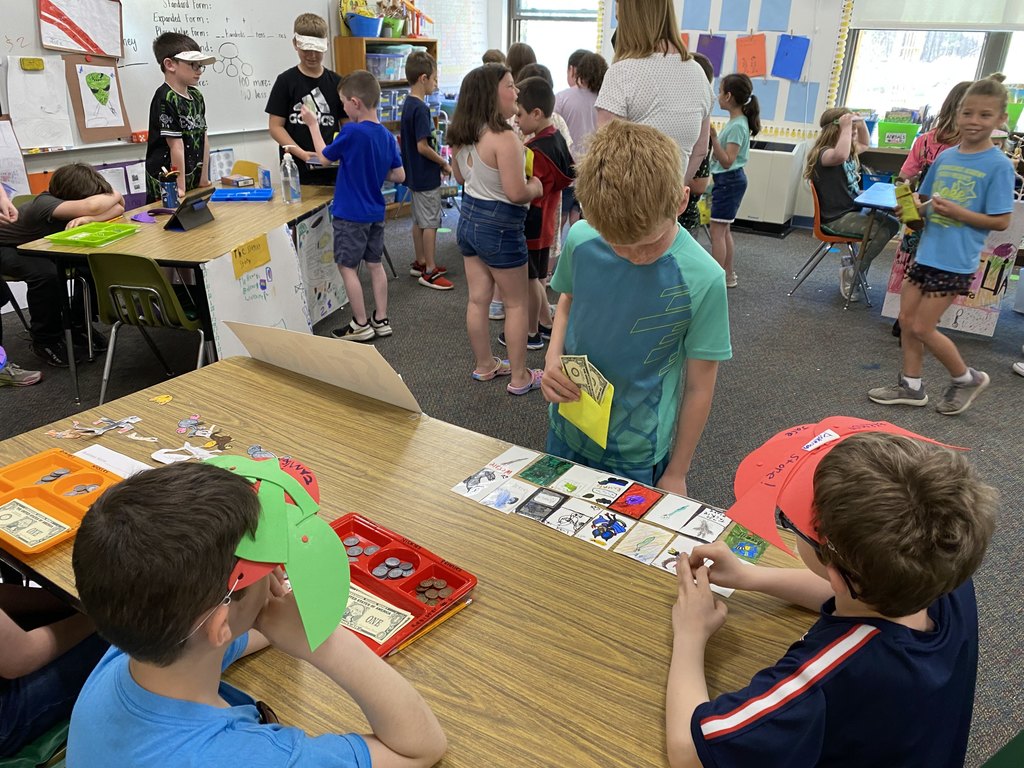 LES Fifth graders Lucas Barrigar, Abbigale TwoHearts-Decesare, Lawrence McCusker, and Elijah Tarbox participated in a field trip to Massabesic Middle School to meet the principal, social workers, nurse, and more! The students also joined a student-led tour of MMS to familiarize themselves for next year.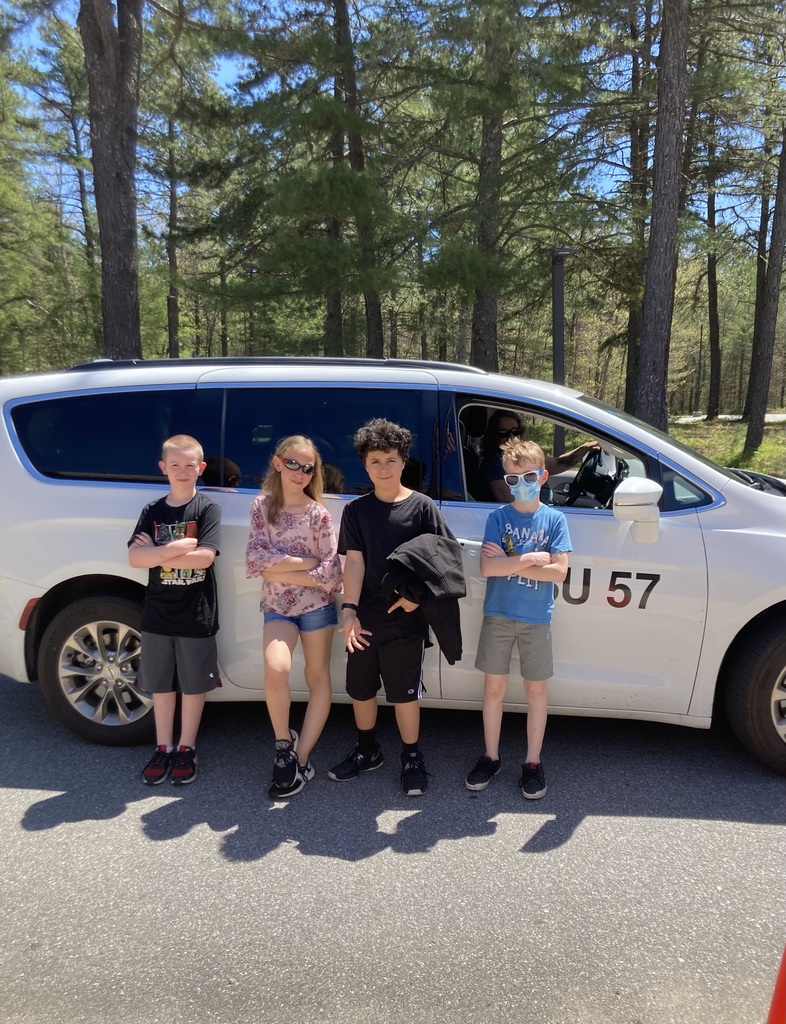 AES staff enjoyed Kiwi the Blender Bike during staff appreciation week in addition to many snacks, treats, and special surprises. We would like to take this opportunity to thank both our PTSA and the Alfred community for your efforts & support! We are thankful for the generous gift certificate donations and our new picnic tables complete with umbrellas! They are a wonderful break space addition!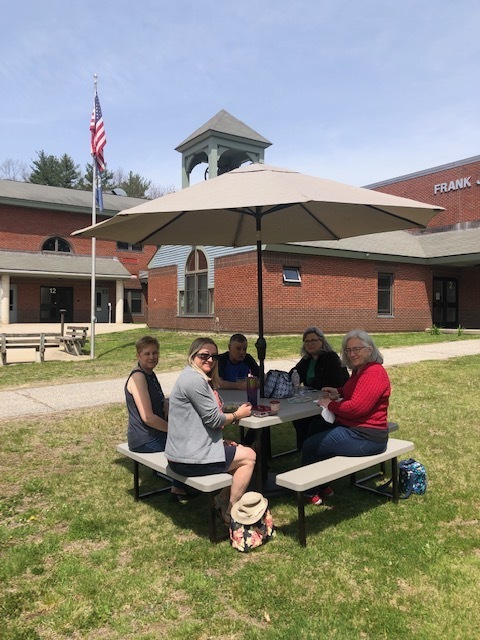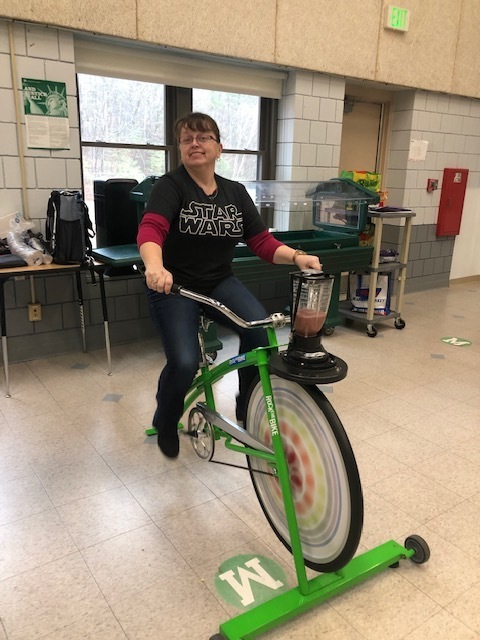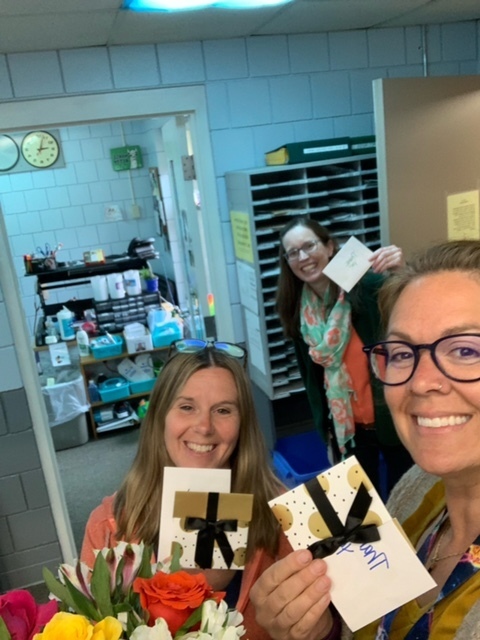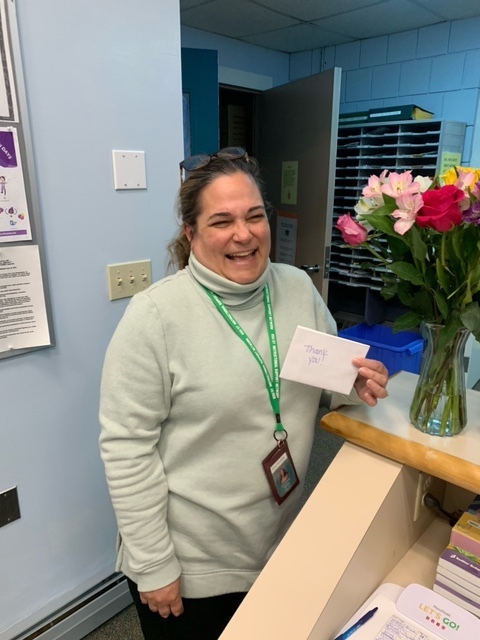 Students at AES put their egg packages to the test! Packages were designed and created out of recyclable materials during our family STEM night. While outside enjoying an ice cream party for reaching a model mustang ticket schoolwide goal, student designed packages were thrown off the roof while staff opened them below. We had many designs that survived the fall!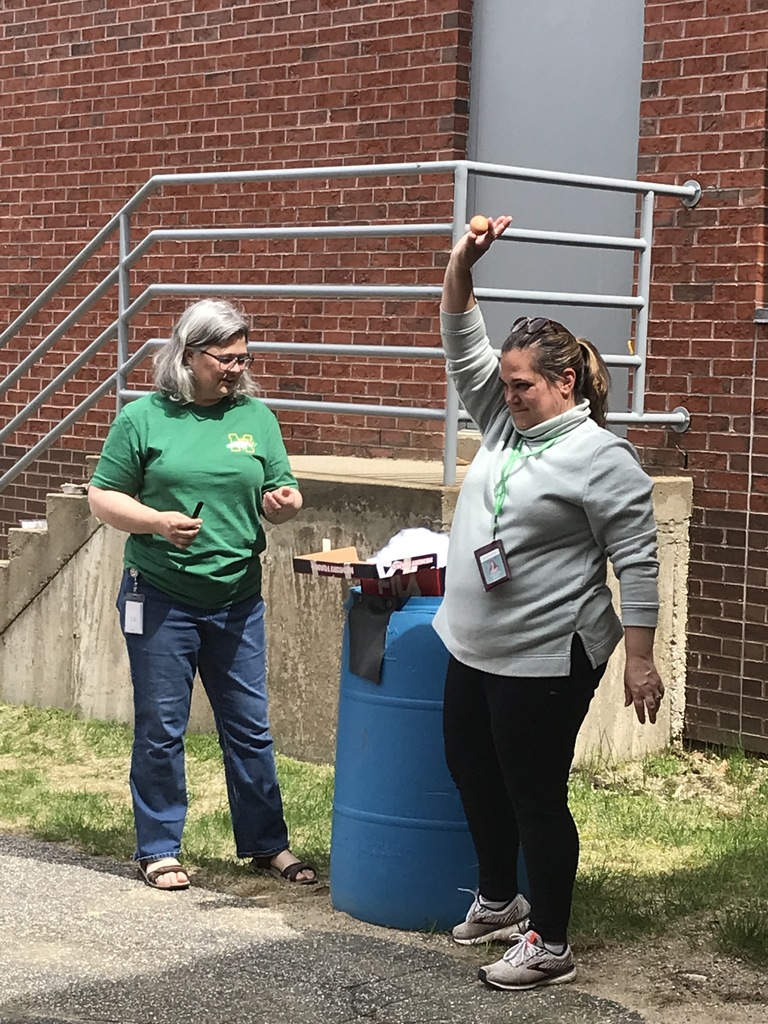 Many thanks to our AES community and staff members for the donated recyclable materials to help make our family STEM night a success! We had the largest turnout ever, and we enjoyed welcoming our families into our community school again. The children enjoyed designing & creating a package to house their egg for our egg drop, took a chance at the 'guesstimation station', chose a book from our free book table, and shopped at our evening book fair!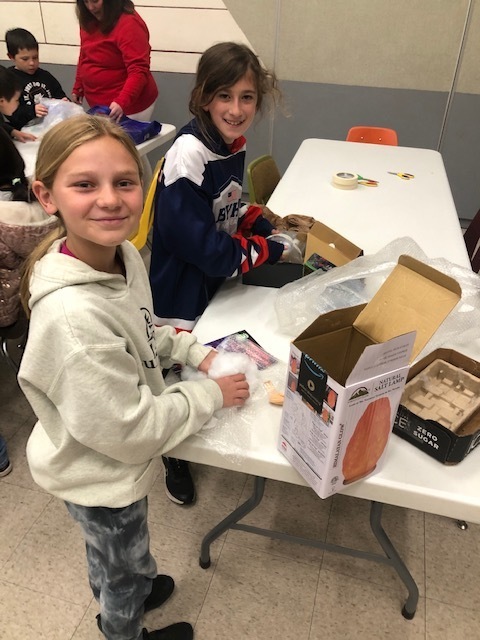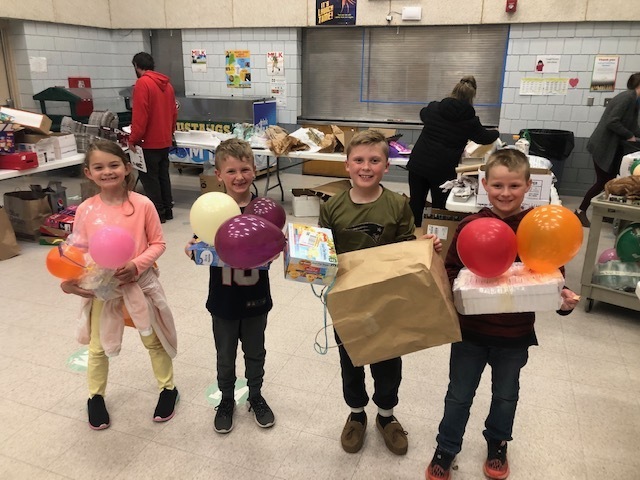 Kiwi the Blender Bike Tour de 57! found its way to Shapleigh Memorial School. Students and staff enjoyed creating delicious and healthy smoothies. On to the Middle School tomorrow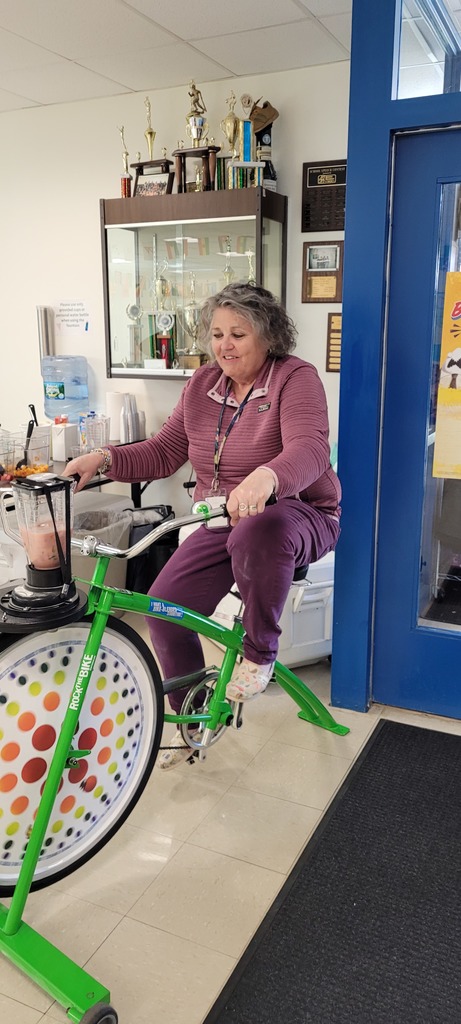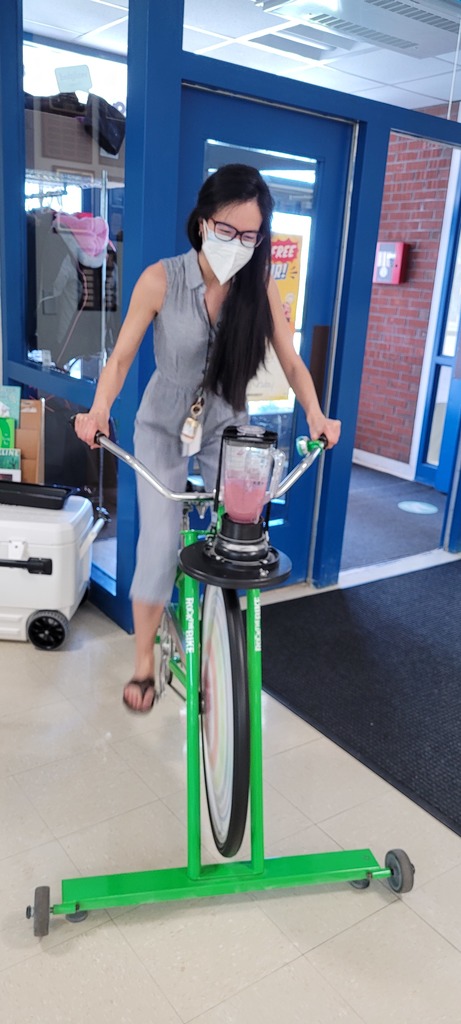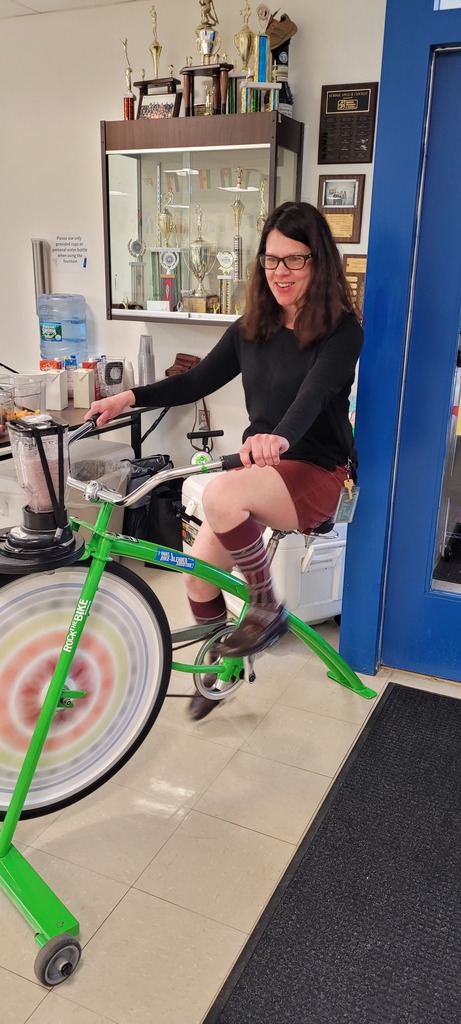 Do you have an interest in driving a school bus for RSU 57 but need your CDL? We can help! Call (207)247-2022 for more information!