MHS Field Hockey Downs Thornton Academy Emily Jacobs scored both goals unassisted, as she put rebounds into the net at 3:55 and then again at 3:07, in the first half of the game. The game was a defensive battle, with the difference in the game being the play by Mustangs goalie, Julia Gregoire, who turned away all 10 of the shots she faced. Our next game is Monday at home against Noble. Thanks , Michele Martin-Moore Math Teacher/Varsity Field Hockey Coach Massabesic High School

Good luck to the MHS Varsity Boys Soccer Team as they travel to Falmouth tonight for a varsity only game at 6:30pm. The bus leaves at 4:30pm

We had several teams in action Tuesday here at MHS. Our Varsity Field Hockey Team defeated Windham 4-1 to move to 3-0. Varsity Girls Soccer lost a tough game to Falmouth 6-1 and our golfers dropped a match to Noble 9.5 to 3.5

Congratulations to MHS Volleyball on their 3-2 defeat of Sanford/Noble yesterday at Sanford! The JV also won their match 3-0. Great job Coach Daigneault and all of the MHS Volleyball players!

Jim Hand, about 3 hours ago @principalbiddhs and I have a friendly wager for Friday night's football game. If the Mustangs win Mr. Sirois hast to wear Mustang gear to school on Monday. If the Tigers win I have to wear Tiger Pride gear. Go Mustangs! Let's see Mr. Sirois in our gear! @mhsfootball18

NOW HIRING!!! RSU #57 is now using Frontline: Recruiting and Hiring to process employment applications for all RSU #57 employment opportunities. Frontline: Recruiting and Hiring can be found by clicking on the "Employment" link in the menu at the top of the district website.

Today's Field Hockey scrimmage at MHS vs Scarborough has been cancelled. The Mustangs open their season at home this Wednesday vs Bonny Eagle. 4pm V / 5:30pm JV


The MHS Field Hockey game scheduled for tonight @ Scarborough at 6pm has been moved to Monday 9/2 @ Massabesic at 5pm. Varsity only

Boys Soccer home vs Sacoppee Valley has been changed. There will be no JV game and the Varsity game will begin on the turf at 7:30pm. Field Hockey vs York tomorrow will be on the turf for both games. V 4pm / JV 5:30pm


We are loving our new app! Access sports scores, cafeteria menus, news updates, and even emergency notifications, right from your pocket. Download the app on Android:
http://bit.ly/3278HxW
or iPhone:
https://apple.co/2NqwkOu
.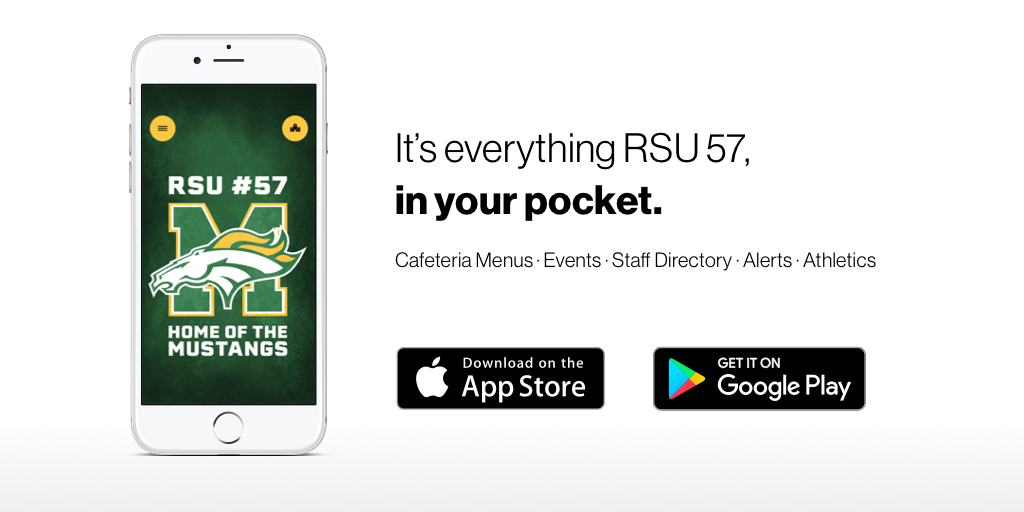 Fall Sports Registration! RevTrak has re-opened for Fall Sports registrations. All students must be registered and cleared through the school nurse and the athletic office to be eligible to participate. Practices begin on August 19th.