Changes to events today 1. There are no practices or events for athletics at MMS today. MMS CC is cancelled. 2. MHS Boys and Girls Soccer @ Marshwood is cancelled and rescheduled for Saturday morning. 10am JV Girls, 12pm JV Girls. 10am V Boys. No JV boys this day. 3. Golf today vs Kennebunk is cancelled.

Today's game at Falmouth has been changed to Varsity only. Game time will be 5:30pm. The bus will depart at 3:45pm

Service Member Recognition Night Tonight the Massabesic High School Football team will be hosting South Portland at 7pm. Our team will be wearing jerseys provided by the National Guard as a gesture, honoring those who have served locally and beyond. The National Guard provides these jerseys weekly to schools in Maine, free of charge, as a part of their efforts to recognize and honor our service members past and present. As a part of this evening's events we will be doing a collection in support of the Wounded Warrior Project. Spectators will have the opportunity to donate to this cause at the ticket booths upon entry to the game. We thank you for your continued support of our teams and hope you enjoy the game! Go Mustangs!

Todays MHS Girls Soccer Game at Westbrook has been moved to tomorrow. Varsity only. 4:30pm. Todays JV and V Field hockey Games at Windham have been moved to tomorrow. 4pm V / 5:30pm JV

The address for tonights football game at Cony High School is 60 Pierce Dr Augusta, Me.

Reminder. All parking for tomorrows 7pm Varsity Football game vs Deering will be in the MHS teacher and students lots. Cars will not be allowed to park at the stadium. There is handicapped parking available at the stadium as needed. There have been lines at the South (school side) gate so we recommend arriving 15 min before kick off so as not to miss any of the action. We thank you for your support! Go Mustangs!

MHS Varsity Football's home opener has been moved from Friday 9/2 to Thursday 9/1. Game time is 7pm. The MHS Field Hockey game scheduled for 9/1 has been moved to Friday 9/2. This is to account for a shortage in officials available.

Tomorrows Regional Final at Kennebunk will be played at 4pm on their practice field. Seating is limited so I encourage you to bring lawn chairs. Visitors seating is across the field from the team benches. We expect to travel well and have a great supportive crowd!

Reminder there is a fall sports informational meeting tonight at 6pm via ZOOM. The link is below.
https://rsu57.zoom.us/j/9038900229
All players and parents should attend

MHS Playoff games scheduled! The MHS Softball, Baseball and Boys and Girls Lacrosse Programs will start their playoff runs this weekend. Softball- Saturday June 4th 4pm vs Marshwood Girls Lacrosse- *Wednesday 6-8 3:30pm vs TBD Boys Lacrosse At Sanford Monday 6-6 3pm Baseball At Falmouth Monday 6-6 4:30pm

The 4th ranked and 11-4 MHS Varsity Softball team will host Marshwood in the round of 16 this Saturday at 4pm. Please come out and support our team as they start their playoff run!

Massabesic High School Talent Show May 20th 7pm! Doors open at 6:30pm!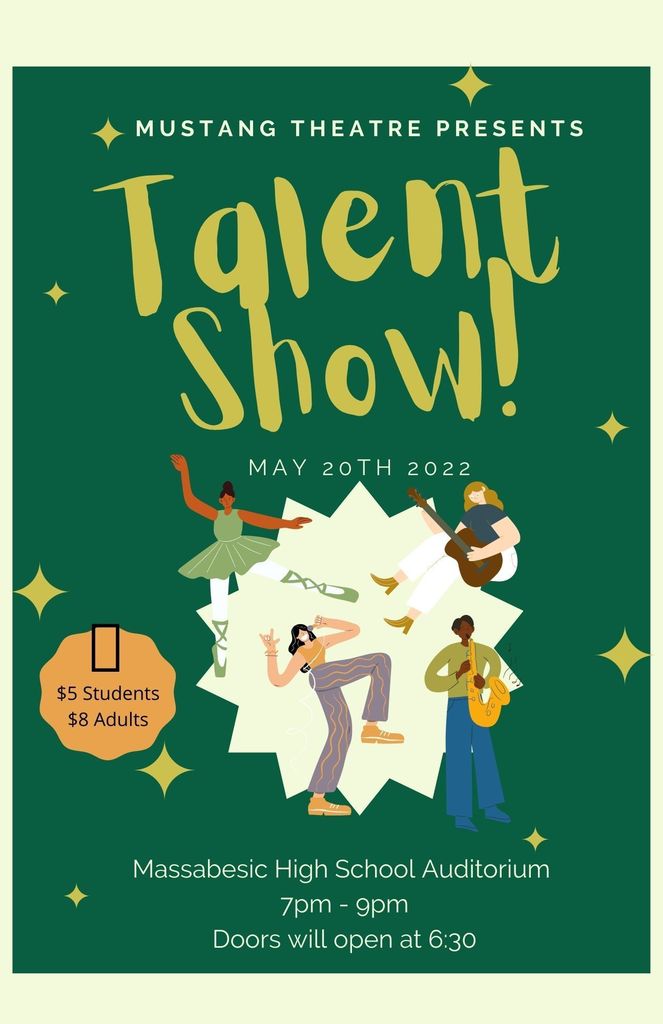 Todays MMS Wrestling match will be held at Deering High School. The meet is no longer at Lincoln Middle School. 4:30pm Start Time

Good afternoon and Happy Valentines Day! All athletes and a parent or guardian are expected to attend tonight's Winter 2 Sports Informational ZOOM Meeting at 6pm. We will review the start of the season and important information for all athletes. Schedules will be posted online on the MMS and Activities website.
https://rsu57.zoom.us/j/9038900229
We look forward to seeing you tonight!

MMS Swim Informational Meeting There will be an informational Meeting for all Middle School Swimmers with your coaches on Tuesday 2-15 at 6:30pm via ZOOM. All MMS students interested in swimming should attend with a parent or guardian. This meeting will go over expectations for both swimmers and parents. It will also address how a practice will go, pick-up time, and how and where to order our team suits. Here is the zoom link for the meeting:
https://rsu57.zoom.us/j/2425083889

Massabesic Middle School Winter 2 Sports Season Informational Meeting. The RSU 57 Activities Department will be holding an informational ZOOM Meeting on Monday 2-14 at 6pm. The purpose of this meeting is to review registration, policy and schedules. We offer Wrestling, Swim and Unified Basketball for grades 6,7 and 8 as well as Volleyball for grades 7 and 8. The link to this meeting is below and will be posted on the MMS website as well as the Activities Website.
https://rsu57.zoom.us/j/9038900229

Did you know that RSU 57 boasts a nationally ranked cornhole player, who also happens to be 11-years old? Meet the all around amazing MMS 6th grader, Rilee Schoff!
https://tinyurl.com/rileeschoff

Congratulations to the MHS Unified Basketball Team on a well-played game yesterday against Sanford! The teams worked together and supported one another throughout. A great job by all!

Winter 2 athletic registrations are open on REVTRAK. Please go to
https://rsu57.revtrak.net
to get signed up ASAP! Practices begin on Monday 2-28​. Massabesic Middle school offers the following sports during winter 2: Volleyball- Girls grades 7 and 8 Swim- Boys and Girls grades 6-8 (Sanford YMCA 2:30 - 3:30 / Transportation provided) Wrestling- Boys and Girls grades 6-8 Unified Basketball- Boys and Girls grades 6-8 An informational Parent Zoom will be held on Monday 2-14 at 6pm to review the upcoming season and current guidelines. Thank you!!

Congratulations to MHS Wrestling who by a tie breaker came in second to Mattanawcook at yesterdays Noble Invitational. Congratulations to coach Derosiers, coach Hernandez and all of our wrestlers!